Daily Activity: Body Pump (3.5 APs)
Well, I did it. I went to the Body Pump class that I promised myself that I would do. If you have no idea what I'm talking about, I wrote in a
previous blog
about how I've been stuck in a rut with my exercise routines. I've done nothing but cardio, cardio, cardio because I absolutely HATE strength training and weights. But I made a goal for myself to go to atleast 1 Body Pump class during the month of August.
I went to the Y planning on doing my normal elliptical routine tonight. When I got there a girl that I made friends with in our spinning class asked me about coming to Body Pump. I initially said no, because I wanted to go to my first Body Pump class when Tim was there to go with me. But she told me how good the instructor was that was teaching and I remembered my vow to myself, so I agreed to go. She was so nice to help me get all of my weights together and everything that I would need for the class.
I was in the front row of the class, which I would have never done if I had made the choice myself. It was really hard and I felt really out of place most of the time. My form SUCKED! I was really trying to concentrate on just making it through without looking like a complete douche. Everything was going ok, until we started doing lunges. I don't know what the problem was but my legs were shaking so bad it was obvious and I kept losing my balance. You'd think I'd have more thigh strength considering how much I run, do the elliptical, and spin.
All in all, I'm glad I went. I know I need to keep going so that I can gain strength. I'm going to seriously make an effort to continue working on my strength on a semi-regular basis. And eventually maybe even a real regular basis.
Tonight for dinner I made Hungry Girl
Moo Shu Chicken
. If you have never heard of Hungry Girl, be sure to check out the website. There are also 2 Hungry Girl cookbooks availabe. I find the recipes to be really good for individuals who are cooking for themselves or for one other person. They aren't usually very "family friendly" recipes. Some of the ingredients are quite strange, some of the recipes are quite strange, but there are some real jewels also.
I won't go into all the details of how to make this recipe since I provided the link, but here are the ingredients you will need: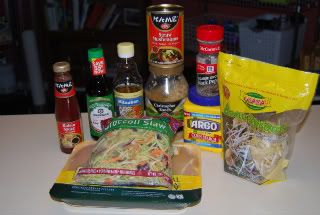 Chicken breast, Broccoli Slaw, Bean Sprouts, Pepper, Corn Starch, Straw Mushrooms, Garlic, Rice Vinegar, Soy Sauce, Hoisin Sauce, and tortillas (not pictured).
Follow the directions in the recipe and you will have something that looks like this: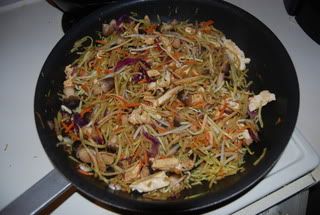 Cut a couple tortillas in half and microwave them for about 15 seconds, then spread a little Hoisin sauce on them and top with 1/3 cup of the Moo Shu mixture. Don't skip the Hoisin sauce, it really makes the dish.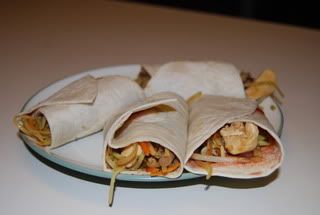 One thing I love about this recipe besides the fact that its just good is that it tastes really fresh and not heavy at all. It would be a great lunch if you have time to make it mid-day, or make the mixture ahead and just wrap up the tortillas when you are ready. It is also a great recipe to get your veggies in!
That is all for tonight.