Tim and I woke up early yesterday morning at 4:30 am to get ready to leave for our Gatlinburg vacation. I wanted to leave home at 6:00 am, but of course nothing is ever on time when you have a baby. We didn't end up leaving until a little after 7:00, but who's counting?
The trip was suppose to take about 6-7 hours driving time, but I knew we would have to make fairly frequent stops to let Lincoln stretch his legs. The last time we tried to travel with him was to Destin, FL (only 4 hours) and he screamed a good portion of the way. I decided this time that no matter what happened I was going to make a conscious effort to be patient with him even if it took us 10 hours to drive.
I could not have been more impressed with the way the trip went. Lincoln slept for the first 2 hours of the trip, then we stopped for snacks and a bathroom break. Luckily we brought our secret weapon that we swore before we were parents we would never have ... a DVD player in the car. With that he was entertained until lunch time.
I really wanted to stop somewhere new and exciting for lunch that I had never been before. But hunger hit me hard and fast and the only thing nearby was Cracker Barrel. I ordered grilled chicken fingers, green beans, whole kernel corn and sweet potato casserole.

Excuse the hair, it was raining.
After lunch Lincoln fell back asleep and slept all the way to Knoxville, only an hour from the cabin. I took some random pictures on the way down out of boredom. Here are a couple shots of the pretty fall colors on the way and our first view of the mountains in the distance.


We finally found the way to the cabin thanks to TomTom our GPS navigation system. I was absolutely in love. I started getting worried on the way up the mountain because there were some pretty shabby looking cabins around, but there were some really nice ones as well. I didn't get any pics of the outside, but here are a few of the inside.


After getting settled in we spent a few minutes in the hot tub, and then got ready and decided on where to go for dinner. We chose The Peddler Steakhouse. It was rated the #1 place to eat in Gatlinburg so we thought we'd give it a try.


Tim and I both ordered the Blackened Tuna with Hollandaise sauce, and I got sauteed mushrooms as my side item. All entrees come with unlimited trips to their enormous salad bar and a basket of yeast rolls. We ordered a bottle of Kendall Jackson Pinot Noir to help us relax after a long day in the car.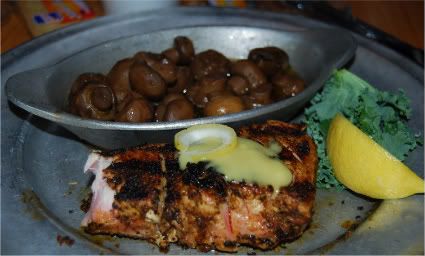 I ordered my tuna medium rare and it was more like medium well, but it had good flavor and the salad bar, mushrooms, and wine made up for what the tuna was lacking. I also stole Lincoln's tartar sauce and it was HEAVENLY on the tuna. I've never had tartar sauce that tasted so good!
Unfortunately Tim and I ended up eating most of our meal alone because Lincoln was exhausted and finally had the meltdown I anticipated all day. While one of us ate the other walked him around the restaurant. A waitress (not ours) saw that we were having a really hard time and she came over and offered to walk with him while we enjoyed our dinner. Normally I would never let someone do that, but I was tired, frustrated and hungry and it sounded like a great idea at the time. We were able to finish up our meal and enjoy our wine. We really appreciated her help!
Today we are going to the Smoky Mountain National Park for a picnic, bike riding and my scheduled 3 mile run.