Today we took my mother in law to lunch for her 70th birthday celebration. We went to
Wintzell's Oyster House
. I have debated for several days back and forth about what I would order when we went. Part of me wanted to try to be really good and get some grilled fish and vegetables or something of the sort, but most of me really wanted the Oyster Sampler Platter.
Ultimately I decided to compromise and order oysters, but to order only 6 instead of 16. I started with Sauteed Crab Claws. I thought I was doing good by ordering sauteed instead of fried crab claws, but I totally wasn't thinking about the fact that sauteed most likely means it will be sitting in a pool of butter. So one strike against me already! I tried to just eat the meat and stay out of the garlic butter.
Then I had a side salad with Light Ranch dressing on the side. Yes, of course it was covered in shredded cheese, but atleast it didn't have bacon or croutons.


For my entree I order a half dozen Oysters Rockefeller with a side of broccoli. I forgot to take a picture of my broccoli, but it was also sitting in a pool of butter. I was really disappointed, it didn't say anything about butter on the menu. I guess thats what I get for not asking.


The oysters were awesome! I definitely could have eaten 16 of them if I had let myself. All of that stuff would have probably been fine if I hadn't eaten about half of my son's fried shrimp and french fries that he wouldn't touch. Oh, and garlic bread ... my god, the garlic bread!
This was the real "the world is out to get me" moment though: Tim went to the restroom and while he was gone my mother in law ordered herself and him Bread Pudding. I told her I didn't want any. Well, when he came back he stopped by the counter and asked the waitress if we had already ordered dessert and she told him yes, that we ordered 2 bread puddings. So he told her to put in an order for him one too! So to my suprise she brought 3 HUGE servings of bread pudding to the table. Talk about a test of willpower! I failed!
This afternoon we took Lincoln over to my grandmother's house to visit with my mom, sister, Aunt and cousin that were in town to celebrate my Aunt's birthday. Of course there was cake and icecream! On the back of the lunch we had, it was really easy to say no to the cake and icecream though. I wasn't even tempted in the least, which I'm pretty sure pissed my grandmother off. She is one of those types of people that takes incredible offense if you don't eat what she provides.
Instead of eating we dumped Lincoln off on the family and decided to go for a run around my grandparent's neighborhood. I intended to run 7 miles, but I kept saying "I'm going to try to run 7 miles". I wasn't convinced that I could actually do it, even though I've done it once before ... especially after that big lunch.
I actually ended up running 8.16 miles! A new personal distance record. I intentionally made myself run at a slower pace than normal so that I could stretch out my run. It also helped that I got absolutely and utterly lost in the neighborhood. I just kept running until I found my way back.
I had planned on not eating again today, but after such a long run I really felt like I needed something. So I made what I'm gonna call "Boca Taco Pita". Basically it was a pita stuffed with a Boca Burger, lettuce, green onions, salsa and sour cream. I also had a side of baby carrots and Fat Free Ranch Dip. It wasn't very photogenic, but it actually tasted really good!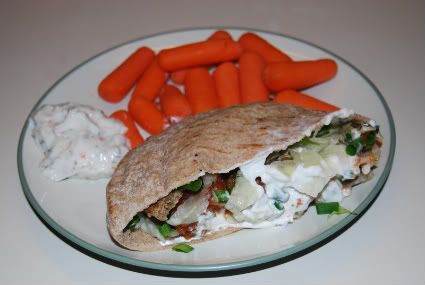 What is your favorite thing to do with a Boca Burger?