Thats right, its finally fall in Alabama! I walked outside this evening and it was a chilly 55 degrees. This is my absolute favorite time of the year. I love everything about it: the cooler weather, football, sweaters, pumpkin pie, the colors. Its all wonderful! I think I'm even generally in a better mood in the fall than I am any other time of the year.
To make matters even better there are only 12 days left until our Gatlinburg vacation. I can't wait to get up in the mountains and see the beautiful scenery, relax in the hottub with some wine, eat some good food and just have a great time. I really need it!
Tomorrow morning is the Chili Trot 5K. I've got my playlist all ready and all my clothes layed out. The only thing left to do is figure out exactly where I'm suppose to go.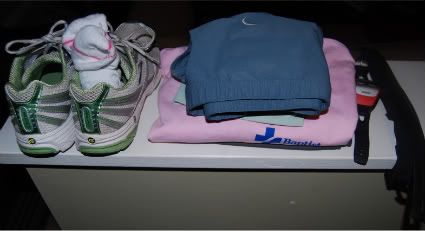 My friends Nicole and Kelli are running with me this time, and my husband Tim of course. I'm not looking to set any personal records this time, just hoping to have some fun. After the race there is a chili cookoff. I haven't decided yet if I will participate in the judging or not. I had a few weak moments with some Oreos at work the other night that I'm still trying to repent for.

Tomorrow night we have the Fall Festival at the YMCA. I'm not sure what all will be involved but I'm excited to dress Lincoln up in his Halloween costume! Oh ... we also get to go tomorrow to pick up the proofs of our family pictures that we had made a couple weeks ago. I'm excited to see how they turn out.
Sunday we are taking my mother in law out for lunch for her birthday (which was actually today). We are going to Wintzell's Oyster House. I'm absolutely infatuated with oysters. They are one of my most favorite things on earth. I still haven't decided if I'm going to make an honest effort to "be good" or if I'm just gonna say F it. I really want the Oyster Sampler, but I'm sure it will set me back about 1000 calories or more.
The fair is in town this week, but we have decided instead of going to the fair and spending a bunch of money that we don't really need to, that we will forgo it. Instead we are going to take Lincoln to Zoo Boo on Sunday night. Another Halloween costume opportunity! Yes!
So the question of the day is ... should I be good at Wintzell's or should I go all out with the Oyster Sampler? Take a look at the menu and tell me your vote for my entree.