I'm too exhausted tonight to write much, but I took some great pictures that I wanted to share. We went to the Smoky Mountain National Park today as I mentioned in an earlier post, these are some shots I got.
Tonight for dinner we decided to stay at the cabin and cook out on the grill. I was pretty nervous after seeing the 4 bears earlier this evening on the back porch but they decided not to join us for dinner thankfully. We made: BBQ chicken breasts, grilled mushrooms, peppers, tomatoes and pineapple, creamed corn and leftover rolls from the steak place last night. It was delish! It was just exactly what I wanted and it was much cheaper and more nutritional than going out to eat.


After dinner I was craving something sweet so we drove down the mountain to Downtown Gatlinburg to find something to satisfy my craving. There were all kinds of fudge shops, ice cream shops, candy stores, and bakeries. I almost decided on a funnel cake, but at the last minute I changed my mind and we ended up at Ben & Jerrys. I've been craving pumpkin lately and Ben & Jerrys had Pumpkin Cheesecake Icecream.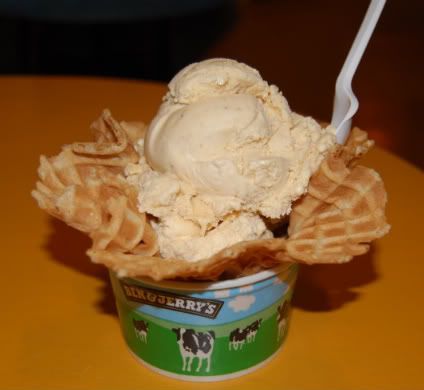 It was heavenly! Now if I could just figure out a way to make myself not feel guilty for eating it. I keep going back and forth through my mind between "You are on vacation, relax! You can work it off next week" and "You don't need that and you are not hungry. Have you learned nothing?" I wish I could find a better balance.
I still haven't found any good running spots. I guess I'm gonna be doing some trips up and down the staircase tomorrow to get my cardio in if I don't figure out something quickly. I'd really hate to miss my long run for the week on Sunday, but if I can't find a place that I can safely run with a baby stroller then I'm just gonna have to put it off until I get back home.
But for now ... I'm going to retire to the bedroom with a good book. Goodnight!