Hot Tub + Sangria = Heaven.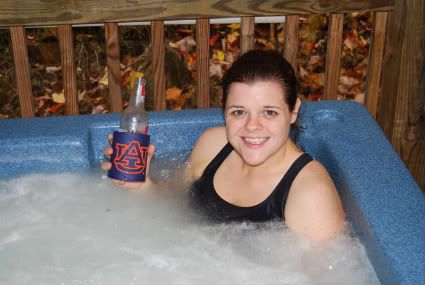 Seeing 4 bears where you were just relaxing with your Sangria = super scary but super cool.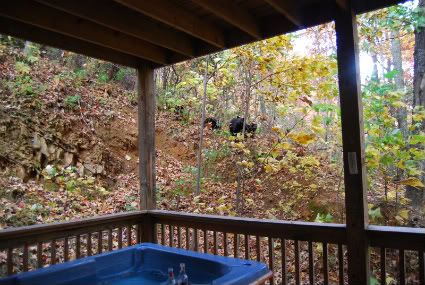 I had just gotten out of the hot tub and was drying off when I looked up and saw that! A momma bear and her 3 babies. They came really close to the porch and I was able to get a few decent pictures.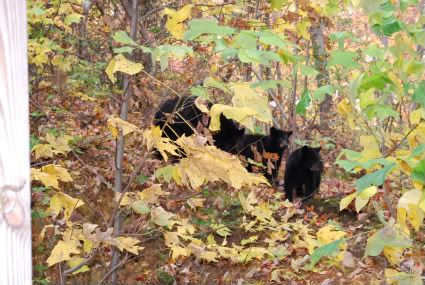 We went to The Smoky Mountain National Park today. We were planning on riding our bikes around Cade's Cove, running our 3 miles for our 1/2 Marathon Training and having a picnic in the park. Things didn't work out exactly as I had planned though. Turns out the road around Cade's Cove where bicycles are allowed is very narrow and its also a road shared with cars ... very slow moving cars. There is no way we could have had fun biking around at 2 mph pulling Lincoln in the bike trailer. It also wasn't a very good place to run for the same reason.
We ended up driving through the park and then heading to the picnic area. We ran laps around the picnic area to complete our 3 miles. I have to say that I was very disappointed. I really thought there were going to be lots of great places for biking and running in the park. I felt like everyone was staring at me the entire time I was running and it was really awkward and uncomfortable. I don't know what I'm gonna do tomorrow when I have another 3 miles to run and then 7 miles on Sunday. We aren't having much luck finding any runner friendly places around here, I'm sure there are some ... I just don't know where to look.
What do you do to find places to run when you are out of town?