I cheated and weighed myself this morning even though my weigh-in day isn't until Monday. If what I weighed today sticks around I'm only going to be about 5 or 6 pounds away from my goal weight. You'd think I'd be ridiculously happy about that, and I am in a way, but I'm pretty freaked out and a little scared too.
I've never in my life maintained my weight. I've either been losing weight or gaining weight as long as I can remember. I don't know how to do anything else! I'm curious about how much I'll be able to eat on my maintenance program. I don't want to slack off on my exercise, I'd much rather just eat more!
Most likely it will be a few more weeks until I have to worry about how its all going to work though because next week I'm going on vacation. I'm not planning on being super strict about what I eat while I'm on vacation, but I'm hopefully not going to blow myself out of the water either. I'm planning on staying on track with my half-marathon training while I'm gone also. I hope there will be some great scenic places to run up in the mountains.
So far my eats today have included: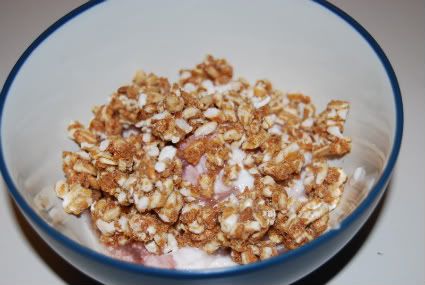 Chobani Strawberry Greek Yogurt with Kashi Crunch cereal.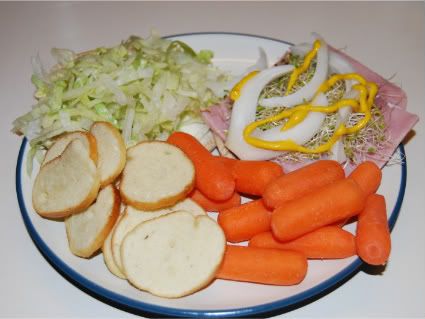 A ham sandwhich on Arnold's Sandwhich Thins with Laughing Cow cheese, sprouts, onions, lettuce and mustard. Stacy's Simply Naked Bagel chips, and baby carrots.
I also snacked on some Chex Mix (I'm telling you, I'm addicted!), a Gala apple and a Homemade Clif Bar that Tim made (more on that later). Tonight for dinner we are having Pork Tenderloin and some undetermined vegetables.