For today's blog I decided to make a picture diary of my food. I definitely won't be able to do it everyday, because not only would that get monotonous but it would also be nearly impossible for me to take a picture of every single thing I eat at work since we don't get real meal breaks. Thats another story all together though.
But I figured this would be a fun way to keep myself accountable for the things that I eat, if I have to share it with (potentially) the whole world.
For breakfast I had: A Deep Chocolate Vitatop, 1 cup of skim milk, and apple slices.
Lunch consisted of:
Homemade Veggie Black Bean Burger
and a cup of Progresso Hearty Tomato Soup.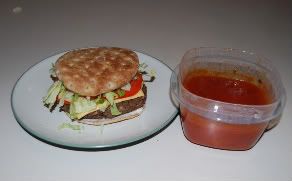 For a afternoon snack I had: Lowfat yogurt, a 100 calorie pack of Pringles, and more apple slices. I didn't take a picture of the Pringles because I didn't actually intend to eat them, but since my son didn't find them fit for him I HAD to eat them, right?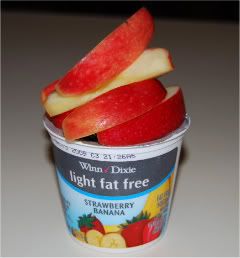 Dinner was awesome! I made Stuffed Bell Peppers, Sauteed spinach and onions with mushrooms, and Cauliflower in Cheese Sauce.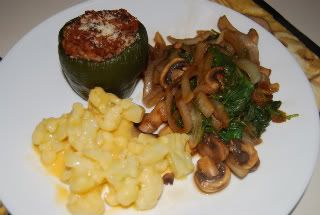 All of this came to a total of 24 points for the day. That leaves me 1 point left over to have a Sugar Free Jello Pudding for dessert. I think it was a pretty successful day food-wise. I got in alot of vegetables and fruit. I probably could have done better on my protein, but I eat alot of protein normally so one low day won't hurt.
Tomorrow morning we are getting up early to go running in the park with some friends of mine from work. I'll get to use my new Garmin Forerunner 305 that came in the mail today. More on that later. Goodnight!