Well, I'm finally off of work for a few days. I can't write much when I'm working since I work three 12 hour shifts in a row. I pretty much just work and sleep for 3 days straight.
When I woke up this afternoon I got some
Parisienne Chicken
going in the crockpot for my dinner tonight. I already had all of the ingredients at home except the mushrooms, so it was an easy fix.
I went to the Y this evening and did 15 minutes on the elliptical before my spinning class. Spin class was really good tonight. I've been feeling like it was a waste of time lately because I think my body is too used to it. My heart rate doesn't usually get high enough for me to burn enough calories in spinning anymore. But tonight was different ... my heart rate stayed higher than normal and I felt like I got a really good workout.
When I got home the chicken was smelling really good. But when I looked at it I realized something was wrong.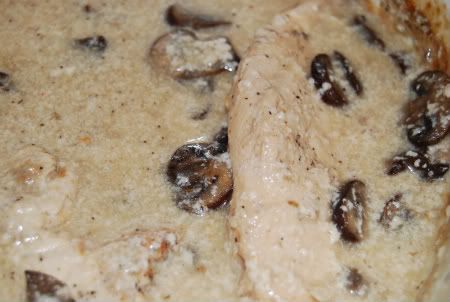 The sauce was all grainy and gross. At first I thought that it was just a bad recipe, but I just re-read it and realized I messed up. I was suppose to mix sour cream into the white wine and cream of mushroom soup mixture, and instead I just put it into the crockpot. Oops!
I tried to make the best of it by serving it with some yummy sauteed green beans and rice. And it wasn't actually that bad, but it definitely isn't a keeper. I don't think it would have been that great if I had done it correctly either, so I probably won't bother making this one again.
Oh well, lesson learned. What culinary mistakes have you made?