After my pitiful excuse for a run this morning, Tim and I decided to go to Fresh Market to get some ingredients to make our own homemade granola bars. Fresh Market is a very dangerous place for me. Not only can I spend hours in that store, but I could literally spend my life savings there as well.
So here is my loot from my Fresh Market trip: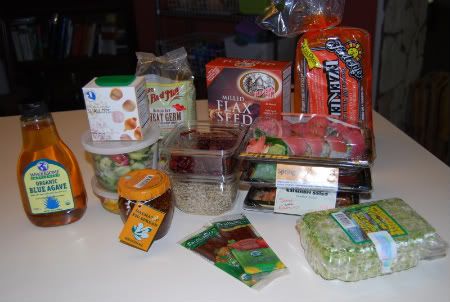 Blue Agave, Frozen Shallots, Dilly Cucumber salad, Edamame Succotash, Wheat Germ, Flax Seed, Ezekiel Bread, Tuna roll, Vegetarian Spring Roll, Calamari salad, Clover sprouts, dried cranberries, Fig preserves, fruit sticks, and sunflower seeds.
As you can see most of what I bought has nothing to do with my homemade granola bars. But, I am weak for a good gourmet market.
I've seen several blogs with people eating sprout and hummus sandwhiches and it looked so good I have been craving it for days. So I made a yummy sprout and roasted red pepper hummus sandwhich for lunch with Dilly Cucumber Salad, the spring rolls from above, and some calamari salad. It was delish! Definitely the best lunch I've had in a good while.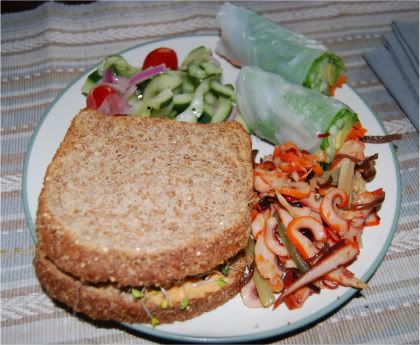 Tim and I are going to take Lincoln to his first movie this afternoon. We are going to go see Cloudy with a Chance of Meatballs. I hope he enjoys himself and is good. I'm afraid he's going to try to run up and down the aisles. I think we'll take his booster seat and get him a small popcorn and hopefully that will keep him occupied.
I used my jog stroller this morning on our run and I HATED it. I'm really upset because I spent alot of money on it and really wanted to enjoy running with it. I don't know what to do now. I don't know if I can even send it back. Its very hard to turn because it has a fixed wheel instead of a swivel wheel, and its like pushing an extra 50 pounds while you run. I did 4 miles, but I walked the majority of it. I'll let you know what we decide to do about the stroller later.