I've been eating a lot of granola bars lately, so I thought I might try my hand at making my own. I found
this recipe
online to use as a guide. I decided to make mine with dried cranberries and sunflower seeds. I also added some milled flax seeds. I made a few other changes as well; I used 1/3 cup of brown sugar instead of the 3/4 cups called for. I also used Blue Agave instead of honey to sweeten it with.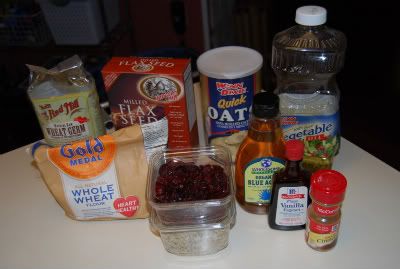 Mix all dry ingredients from recipe into a large bowl, make a well in the center and pour in all the wet ingredients. Mix well with your hands and spread on a 9x13 pan.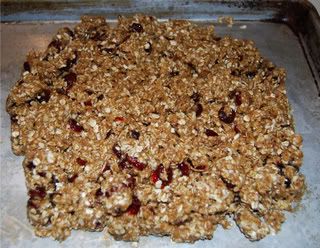 I put a piece of saran wrap sprayed with PAM over the mixture and had the hubby roll it out with a rolling pin for me so that it would be nice and even.


I love that he is wearing a shirt that says, "Let me drop everything and work on your problem" while he's rolling out my granola for me. :)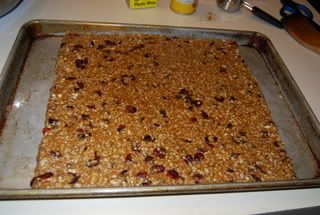 According to the recipe you are suppose to cook the mixture at 350 degrees for 30-35 minutes, but I read several of the reviews that said that was way too long. I cooked it for 18 minutes and it turned out perfectly. After letting it cool off for a good 5 minutes I cut it into bars.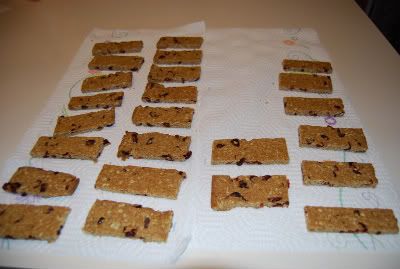 For 24 bars it works out to be 3 points per bar. Not bad! I might try one in the morning for breakfast. Lincoln ate a whole one tonight for dinner, and he rarely eats anything so they must not be too bad.
Originally I planned on making Melissa D'Arabian's Morrocan Meatballs, couscous with dried dates and steamed carrots for dinner tonight. But after eating some movie theater popcorn that I didn't plan for I decided I needed a lighter dinner. So I had some yummy sushi, edamame succotash and some of the leftover dilly cucumber salad.