Well, this will be my final post before my first 5K tomorrow morning at 8:00 am. I started off training with the Couch to 5K program several months ago and finished the program and kept going. At this point I have run up to 6 miles straight, and I do 4-5 miles consistantly several times a week. I don't have any doubt that I'll be able to run the whole 5K tomorrow which is what my original goal was. Now I'd like to finish in a reasonable time. I'd be happy to finish in 31 minutes or less. I think that is very do-able.
I worked on my playlist for my iPod tonight. I picked some songs that have good beats, a fast tempo, or are particularly motivating for me. So here it is:
Forgive the Kanye West. He's an ass, but that song motivates me when I need it. Thats why I chose to put it at the end. This playlist runs about 33 minutes, so hopefully I'll be well done by then.
I went through my race packet tonight. It contained: a course map, my t-shirt, my number, a pedometer, and a few pamphlets.


My tshirt is too big on me! I'm having a hard time realizing what size I actually am. In my mind I'm still a large. I'm hoping I can trade my large t-shirt in for a size medium tomorrow morning before the race. But I did put it on for just a second to take a picture.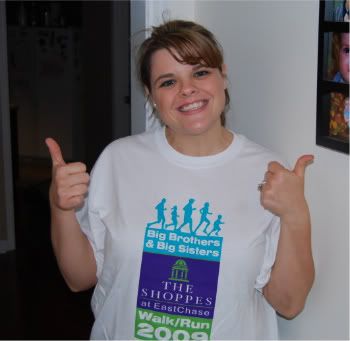 Since I was out all day I didn't plan what I would make for dinner tonight, which is very uncharacteristic of me. I went through what we had in the house and came up with this: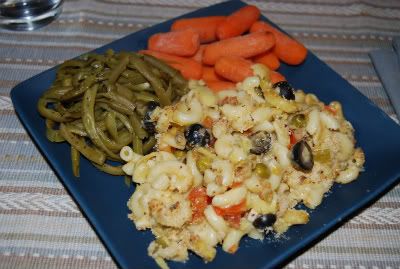 Chicken macaroni, green beans and steamed baby carrots. The macaroni includes: diced chicken breast, diced tomatoes, artichoke hearts, black olives, green peas, cream of mushroom soup, cream of chicken soup, mozzarella and cheddar cheese, and bread crumbs on top. It ended up making 2 huge pans! It worked out to be 5 points per serving. Not bad at all. I'll have alot leftover to freeze. For dessert I had a Sedona Frozen Yogurt and Granola Sandwhich. They are so delish!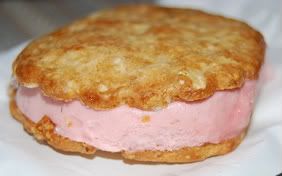 Have a great night! I'm going to try to get to bed early tonight so I can get a fresh start tomorrow. I'll let you know how the race goes.