This morning I woke up at about 6:45 and debated on whether to go running or not. My mind wanted to get up and go, but my body wanted to sleep in a little longer. I decided to go ahead and bite the bullet and get it done. I knew I'd feel much better if I did, and I also wanted to make up for the pitiful run I had yesterday.
I had decided last night that instead of running from home like I normally do, that I would drive to this spot along my running route and park my car. That way I wouldn't have to run across the busy street near my house and run through the grass on the side of the busy road where I always get squooshy wet shoes. I couldn't find my car keys though. I eventually did but I had a few moments of panic where I thought I might have dropped them in the movie theater yesterday.
Once I finally got going it was a great run. I felt much lighter and free than yesterday when I ran with the jog stroller. I did two loops around the neighborhood for 5 miles. I really felt like I could keep going but I needed to get home so Tim could get to work.
After my run I had some Organic Greek Yogurt with Kashi Honey Almond Flax cereal and some cantaloupe chunks. It was yummy and really filled me up after my run.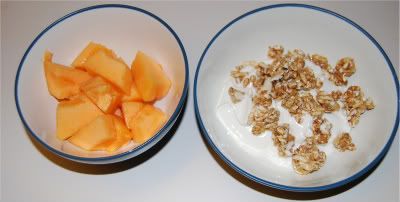 For lunch I'm going to make one of my E-mealz recipes called Calico Corn and Bacon Pie and some veggies.