Daily Activity: 2 Spinning Classes (8.5 APs)
I love Tuesdays and Thursdays. Those are the days that my favorite spin instructor teaches back to back classes at the Y. So every Tuesday and Thursday (except the nights I have to work) I find a delicious crockpot recipe and get everything going so that I can spin my heart out at the Y for 2 hours and burn around 800-900 calories. Then I come home to a great smelling house and an exciting recipe waiting for me.
Today I decided to pull out a London Broil that has been in my deep freezer for atleast a good 6 months. I originally bought it because it was super cheap, but then I never knew what to do with it. So it sat ... until today. I looked up a
Slow Cooker London Broil
recipe on my favorite site
All Recipes
, and threw everything in the ol' crockpot.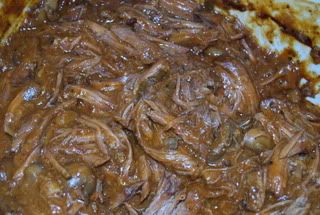 When I got home from spinning, I shredded the beef up and made roast beef sandwhiches with lettuce, tomato and just a smear of Hellman's Low Fat Mayo on a Sunbeam Light Hamburger Bun. Much more points friendly than traditional French bread. I made some Oreida Zesty Twirl fries to go alongside (3 pts/serving) and had another delicious crockpot dinner. The entire meal works out to be 10 points including the fries.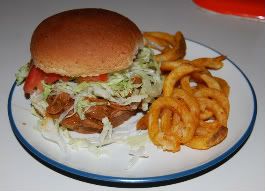 In other news, Tim (my hubby) told me tonight that he found out that Zumba is coming to one of our local YMCAs. I've watched a few youtube videos of Zumba and it looks super fun, but it also looks like something I would be embarassed as hell to do in public. So we'll see. Maybe I'll work up the nerve to actually give it a try. I'll keep you posted.