Daily Activity: Spinning 45 minutes (4 APs)
Some of you may know that I went to a church boarding school when I was in high school. The school that I went to was vegetarian; so I went two years of my life without eating meat. During that time I found some really good meat substitutes that I actually enjoyed. I think most people automatically close their mind down to trying "meat-like" products without giving them a fair chance. Although I'm not a vegetarian now, I still resort to some of my meat substitutes on occasion because of their lower fat and calorie content.
One of the things I have always enjoyed are Boca Burgers. They are frozen hamburger like patties that can be microwaved or cooked on an indoor grill. They make several different flavors and some vegan options. They don't taste like a real hamburger, and I think thats where alot of people get caught up. But personally I like the way they taste.
A few months ago I discovered that Boca makes a product called Boca Crumbles. It is the vegetarian equivalent of ground beef. It can be found in the frozen food section of the grocery store with the other Boca products and Morningstar Farms products.
The nutrition information:
For those of you on Weight Watchers, one serving equals 1 point. Not bad at all! Compare that to ground beef and I think you'll see a big difference.
I love to use Boca Crumbles for tacos and in chili. With all of the spices and toppings you really cannot tell a difference in the taste of the Boca Crumbles vs. ground beef. There is a slightly different texture, but its hardly noticable.
Boca Crumbles are really easy to cook with as well. You can take the bag straight out of the freezer to a skillet without defrosting which is great for dinner on the fly.
This is what it looks like cooked and mixed with a taco seasoning packet, just like you would do with regular ground beef.
Proceed to make your tacos like you normally would. For my toppings I used: Kraft Free Shredded Cheddar Cheese, chopped onion, chopped scallions, salsa, Daisy Light Sour Cream, and cilantro. I served Old El Paso Fat Free Refried Beans on the side with some of my taco toppings.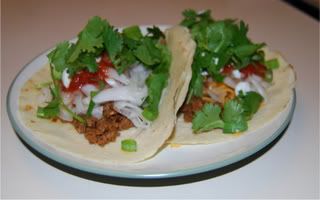 Two soft tacos with all the toppings and 1/2 cup of FF refried beans equals 8.5 points, and one very filling and delicious meal!